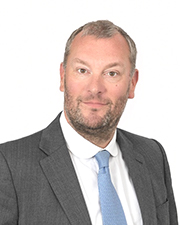 Giles

Wintle
Principal
Managing Director Investment Management


Investment Management
43 ave de la Grande Armée

Paris, 75116 France
Giles is a proven senior executive and leader in international real estate investment management, finance and development with a solid track record in investing and managing retail assets throughout Europe.
During his 25-year career he has worked as an advisor, an investor and as a fund manager. He has invested and managed more than USD 8bn of real estate through funds, joint ventures and direct asset holdings in France, UK, Spain, Italy, Sweden, Finland, Poland and Russia.
As an investor and a manager, Giles directly and indirectly acquired retail assets in the UK, France, Italy, Spain, Finland, Sweden, Poland and Russia. He was responsible for originating and structuring new investments as both a principal and a limited partner.
As a fund manager, at Grosvenor Fund Management, Giles oversaw USD 4.75bn of assets of which c. 80% was retail. Giles grew assets under management by 40% over a 3-year period and opened 2 new offices. During his tenure as a fund manager, he generated returns to investors that averaged 540bps over regional and sector benchmarks.
Prior to joining Avison Young Investment Management, Giles was co-founder of Cassian, a French investment and asset management company. Prior to that he was Executive Director of Grosvenor Europe, CIO of Grosvenor Fund Management, European head of Grosvenor Fund Management, Senior Vice President at the Government of Singapore Investment Corporation (GIC) and Vice President of BNP Paribas Corporate and Investment Banking (Retail, Real Estate and Hotels Group).
Project Experience
Fund restructuring: UK
Giles led the restructuring and reestablishment of a UK-based discretionary closed-end fund vehicle with eight institutional investors in 2015. The original fund structure dated from the mid 2000s and was created to finance the development of a large mixed-use town project in the UK. Giles led the negotiation of new fund terms, reflecting the revised business plan, the retail environment, and the goals of the investors. The fund is still in existence.
Acquisition and management set up: Lyon, France
Giles led the acquisition of 33 buildings on rue de la Republique in Lyon, France from their historic owner in 2012. The portfolio comprises more than 50% of the retail facades of this prime mass-market retail street and their residential and office upper parts totalling 66,000 sqm (710,000 sqft). Giles led the negotiations of both the asset acquisition and the investment structure. He then opened a dedicated local office, staffed it, and created an integrated property and asset management solution for the portfolio. The portfolio was exited in 2018 and the financial returns to the investor exceeded underwriting.
Shopping mall acquisition and turnaround: Stockholm
Giles created a dedicated Luxembourg-based collective investment vehicle with three investors and led the acquisition of a 98,000 sqm (105,000 sqft) regional shopping mall in Stockholm, Sweden in 2014. Giles hired a local team, including a senior asset manager from a competing mall operator, and oversaw the strategic commercial plan for the mall. The vehicle returned double digit total returns, exceeding the original underwriting, during the Giles' tenure.
Development start-up: Madrid, Spain
Giles developed and put in place a high-end residential development strategy in Madrid on behalf of a joint venture with a Malaysian investor. Giles put in place the processes and controls necessary, hired a local team and oversaw the acquisition of 6 development sites for high end residential in central Madrid.
Office value-add: London, UK
Giles oversaw the acquisition, refurbishment, leasing and subsequent sale of a 7,500 sqm (80,000 sqft) office in London's mid-town. The project created a profit of c. 50% at the asset level over a period of 3 years.
High street retail fund: France, Italy, Spain
Giles oversaw the fund and asset management of a discretionary closed-end fund of 26 high street retail assets in Europe (115,000 sqm). The fund returned 100bps above its benchmark from inception to 2016, when it largely liquidated.
Retail mall: Helsinki, Finland
Giles acquired 40% of a 20,000 sqm (215,000 sqft) shopping mall in Helsinki from a local operator in 2007. The transaction was structured as a joint venture with significant additional commitments to fund an extension and join the mall to a planned public transportation node.
Retail mall, core investment: Metro Centre, Gateshead, UK
Giles acquired 40% of a 192,000 sqm (2m sqft) shopping mall in Gateshead, near Newcastle in the UK from a local operator in 2006. Giles later acquired the securitised debt obligations of the holding company, further increasing exposure to this dominant shopping centre.
Credentials
MBA: HEC Paris
RICS
BSc (hons): University of Westminster
Key areas of expertise
Offices
Retail
Fund management
Finance
Technology
---