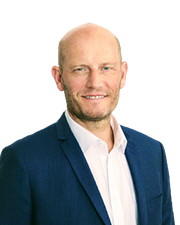 Steve

Woodward
Principal, Development Services


Investment Management
43 ave de la Grande Armée

Paris, 75116 France
Technical commercial real estate professional with over 20 years' experience across mainland Europe in project management, technical due diligence and contracting for landlords and occupiers alike.
Several European Board Director roles with demonstrated track record of developing and managing cross-border International teams of up to 65 people in France, Spain, Italy and Switzerland.
Experience in many sectors including in Office, Industrial (Light and Logistics) Embassies, Residential and Retail sectors.
Savills - European Board Member with responsibilities for European development and management of French business unit.
Developed and managed French team for over 5 years bringing key clients and projects into to the Savills business including Australian Government, Google, M7, Chelsfield, Thor Equities and Amazon with projects principally in France but also in Spain, Benelux, Switzerland and Germany.
Projects included pan-European technical due diligence, value-add feasibilities and complex bare-shell or demolish/rebuild in excess of 50M€ in construction works.
Other key clients: Segro, Planeta, Gramercy, Chubb, Galleries Lafayette, European Banking Authority, XPO Logistics, AEW, Tyndaris, Goodman, Invesco, Deutsche Bank, Investec, Gazeley, T-Systems, IMS Healthcare.
ISG – Managing Director Southern Europe
European Board Director for ISG responsible for offices in France, Spain and Italy.
Regional responsibility for over 65 staff and in excess of 60M€ turnover. Management for regional P&L, Operational Management, Technical Services, Business Development, Recruitment, HQSE and Project Delivery.
ISG delivered project and construction solutions for office and retail projects from initial technical due diligence, feasibility studies and budgets to complex heavy refurbishment.
Projects in France, Spain, Switzerland and Italy for clients including: Lloyds Bank, Franklin Templeton Investments, Bank of New York, Stephenson Harwood, Standard & Poor's, Olswang, Standard Chartered Bank, Google, State Street Bank, Royal Bank of Scotland, Barclays, Chubb.
Sample Project Experience – Landlord
Australian Government (DFAT)
Significant bare-shell refurbishment for the Australian Government at their Paris compound. Working in an occupied and secure Embassy, project involved a complex and sensitive programming of asbestos removal, structural modifications, waterproofing, renewal and upgrade of all MEP services including distribution, finishes, final secure walling, partitioning, IT installations and FF&E. Works value in excess of 30M€.
Chelsfield – 54 avenue Montaigne
Major transformation of a prime city centre office building to a mixed retail/office development for the tenant Dolce & Gabbana. Works involved asbestos removal, replacement facades, internal structural works including reconfigured floors, creation of extra basement levels and lightwell, terraces and adding an extra floor. Works value in excess of 15M€.
Union Investment GmbH – Grand Central
Development appraisal and client rep for major CBD renovation and new-build of a mixed-use office and retail development. The complex project involved partial demolition and reconstruction of over 24,000m² of prime office and retail space adjacent to Gare St Lazare in Paris. The project designed by Jaques Ferrier was subsequently almost exclusively leased to Pernot Ricard as their French Head Office. Works value in excess of 80M€.
Sample Project Experience – Occupier
IQVA
12,000m² office fit-out for 750 staff relocating from 4 sites into Tour D2, La Defense near Paris. Project involved managing relocation of 4 sites, design and construction of their class-leading new French head office space. Project value in excess of 13M€.
Coca Cola Services France
Client project manager for the new French head office for Coca Cola France including the management of the internal teams, move, procurement of consultants, design and construction of the new office space. Project value in excess of 10M€.
International Tech Firm
Major CBD refurbishment and transformation of 3 buildings into a new office and engineering facility for a major US Tech firm. Project involved asbestos removal, façade replacement, major internal structural modifications, renewal of all MEP services and internal finishes. Project value in excess of 30M€.
Credentials
BSc (Hons) – Building & Project Management
Key areas of expertise
Project Management
Construction
Technical & Environmental Due Diligence
International Projects
Landlord & Tenant
---